Tree hugger? Check out Wood-On-Walls by Gilford

There's nothing like standing stark naked in the woods, freshly emerged from your cave and sipping on a fresh brew of billy-boiled tea. The kookaburras cackle, the wallabies bounce and the possums turn their backs in shame. Ain't nature great? But if you try to bring that sense of freedom indoors, you could run into a few hurdles. Timber is fantastic if you can afford it in abundance, but if you're fitting out a commercial space with lots of nooks and crannies things can get complicated.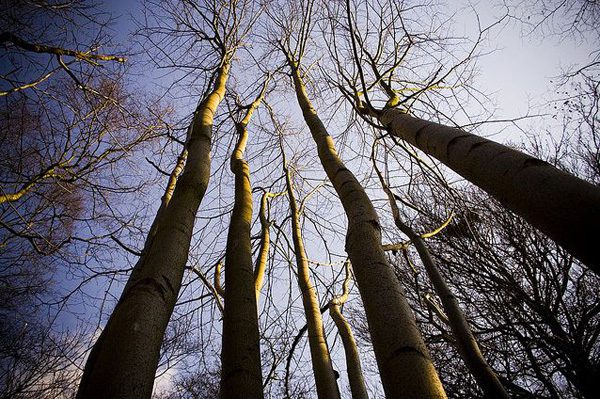 Today's wallcoverings are immensely diverse and come in thousands of designs, colours and textures. They can hug the contours of your walls, bringing instant warmth to any cold and sterile space. But how do you marry that kind of flexibility with an ancient and intuitive appreciation for wood? How do you bring nature indoors without having to endure an expensive and time consuming renovation? The answer is deceptively simple – you reach for the amazing product called Wood-On-Walls by Gilford.

Gilford is an international supplier of commercial interior finishes with over 65 years of industry experience. The company is renowned for its ability to respond quickly to the needs of architects, designers and contractors. Their Wood-On-Walls collection is a triumph of manufacturing that uses real timber to produce highly flexible veneers that instantly transform a barren space into a rich and inviting landscape. Gilford hand picks logs that are best suited for their wallcoverings, which are debarked and soaked in hot water to soften the fibres before they are shaved to a thickness of 1/64th of an inch. Using skilled workers, the veneers are placed on a special cloth backing and permanently bonded by heat and pressure. The results are spectacular and you can match lengths to cover walls that are 9 metres or more in height without the use of molding or batten strips.
When I'm strolling through the woods, they never seem to be static things. In physical terms, I move through them. Yet in metaphysical terms, they seem to move through me – John Fowles
Wood-On-Walls is much cheaper than raw lengths of timber, is easy to apply in same way as wallpaper and it will wrap around poles and fold around corners. The product also comes untreated – so you can stain, wax and polish it to create the effect you really desire. What's more, Gilford has long held environmental stewardship as a corporate priority. The company does not, and will not, knowingly market any wood product that comes from any of the world's protected rain forest areas. The suppliers they work with must be active supporters and participants in reforestation. There are about 99,000 species of hardwoods in the world today, but Gilford will only use about 50 in the production of their flexible wood wallcoverings. They're serious about this commitment – and their veneers carry a Class 'A' fire rating as well.
So if you are looking to reconnect with nature, you can't go past Wood-On-Walls by Gilford. Their range of timber veneers will give you great flexibility, a range of stunning décor options and a commercial grade surface that breathes new life into your walls. To find out more, give us a call today on (03) 9335 6711 or read more about the product here.