Intrigue your guests, titillate your customers with a wall mural by Thomas Zeitlberger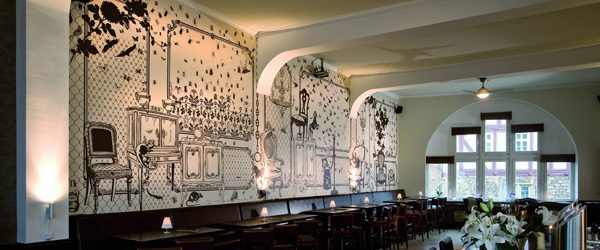 Dream away, let your imagination fly. If your urban pad or bustling café needs a facelift, something extraordinary and stylish – but not confronting to the senses – where do you start? If you have a feature wall that is screaming out for help, what can you do? Rest easy, the solution may be tucked away in the iconic work of Thomas Zeitlberger.
Zeitlberger is a Viennese goldsmith, sculptor and designer who has managed to achieve a great deal of industry fame for his always stylish – but slightly surreal – collection of wall murals produced for wallpaper giant Marburg. Zeitlberger weaves a dreamlike blend of carefully chosen patterns, images, colours and styles into his digitally printed collages. The result is a finely balanced selection of wall murals that fuse elegant design with striking imagery – giving bold decorators that perfect combination of chic, grace and eccentricity that's so hard to achieve using conventional wallcoverings.
Zeitlberger's fantastic picture puzzles include a plethora of half-hidden figures, symbols and elements. The murals contain many elements taken out of their original context and placed in an alien environment without any overt logical correlation. His murals contain a surprising of number of things which do not belong together, but which create a fascinating decorative effect. It's all a bit crazy, a bit freaky, but 100% stylish. Try some of the following designs on for size….
Ammonit
A twisted network of watchbands, gold chains, geometrical shapes and psychedelic elements available in blue or pink

Nepenthes
Bold red stripes meld into blue and green pastels, dotted with intriguing images of fans, cards, snails and sweets

Salle de Sejour
Sketch-like rendering of a country kitchen invaded with surreally placed spiders, butterflies, rates and centipedes. Available in black, brown, red and orange.
Jardin
Soft pinks and blues lead your eyes delicately across an elegant cloudscape, punctuated with tree brances, keys, stilettos, a bird's egg and a startling 8-ball

Solar
A subtly rendered sun rises as the centrepiece of a design infused with country garden/farmyard elements including chickens, axe in wood stump, rope ladder, wagon when and an incongruous coat hanger dangling from a small branch

Trail
Stripes of bold primary colours are interlaced with ornate sketches of cathedral arches, a spray of stars, a few light bulbs and an oddly placed space shuttle.

To provide added flexibility, each design comes in a range of sizes from 3.9m wide, 1.0m high up to 15.0m wide, 4.0m high and can be split into panels measuring 2.5 metres wide. So there's a Zeitlberger wall mural to fit every blank canvas. If you're seeking to redefine your space and can't find that elusive blend of eclectic design and artistic sentiment, look no further. You'll find a haven for your imagination in the works of Thomas Zeitlberger. Give us a call today on (03) 9335 6711 or explore the collection gallery here.