Hey genius, your designs are still in the box!

I don't know art, but I know what I like! Perspective is a funny thing, because when it comes to interior design you'll find a whole science dedicated to an essentially subjective concept. The challenge is to turn traditional notions on their head, but still produce designs that are functional for the consumer. One way is to engage a leading designer who is not afraid to step outside established conventions, but is willing to balance their artistic temperament with a savvy understanding of the market. This way you can build the perfect storm, producing award-winning designs with strong appeal. Just like the work of Oskar Zieta, whose innovative furniture pieces combine modern technology with true artistic vision.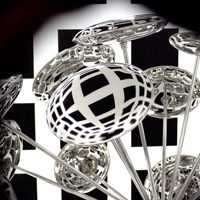 During Vienna Design Week, there was one exhibition that really had the audience winking. Oskar Zieta deliberately made his Reflections Exhibition look like a labourer's strike when visitors walked into a room full of unpacked boxes. But there was a method to his madness, as visitors soon found out when they placed a cautious eye up to a series of peep holes drilled at various angles. Inside lurked a number of carefully selected ZIETA OBJECTS like a Chippensteel chair, Plopp stool, Multipunkt boards or a futuristic Pin-Ball. These designer pieces were surrounded by bold black and white geometric wallcoverings, creating a whole host of mesmerising reflective surfaces. The interplay of light and shade almost made the objects disappear, kind of morphing them into a number of twisted and beguiling shapes that became increasingly addictive to the audience.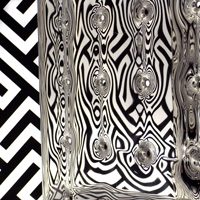 A reflection of an exact image is the closest thing to you – but it's far enough away so that you really understand it. Yet it hovers just an inch above reality – Wes Bentley
Zieta's use of innovative manufacturing techniques is a hallmark of his work. His steel stools, for instance, are forged using FIDU technology. That's Free-Internal-Druck-Umformung (Reshaping). OUCH, sounds almost MEDICAL! Basically it's the shaping of metals using targeted air pressure, negating the need for traditional casts and moulds. This method can produce steel constructions that look like they've been hand-crafted by an experienced glass-blower. These polished objects can interact with patterns on the walls, producing amazing effects that seem to make a room vibrate. The results are stunning and can be achieved in your home, office, restaurant, bar or retail outlet.

As social beings we live with our eyes upon our reflection, but have no assurance of the tranquillity of the waters in which we see it – Charles Horton Cooley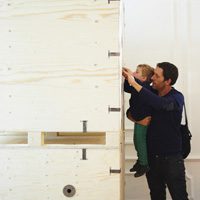 At Hume Internationale, we have a diverse range of wallcoverings that can reproduce the kind of interplay achieved in Vienna. You may choose a shimmering design from the Wall Silk II Collection, a bold offering from Strictly Stripes, a breezy selection from the Studio Collection or even build your own reflective styles using the amazing technology of Digital Wall Art. Go ahead, make Oskar Zieta's day! Indulge your senses with the perfect combination of fixtures and wallcoverings. You can check out more at designboom.com or Zieta Designs. But if you're keen to get cracking right now or simply want the right advice, give us a call on (03) 9335 6711 or explore the site further now.