Heimtextil 2011 shifts the boundaries

Heimtextil 2011 is the biggest home and textile distributor trade fair in the world. This year over the period 12-15 Jan 2011 over 73,000 trade visitors from the fields of purchasing, the retail trade, interior decoration, architecture, design and contract fur­nishing attended, visiting over 2,601 exhibitors from 60 countries. We were there and bring you our thoughts on the design and wallcovering industry.
Design trends.
Heimtex produce a design trend catalogue to guide interiors companies on the direction the market is moving in. The broad themes this year come together under a reconnect banner, many of the themes reflect a search and desire for meaning :
Mix/mash: experimental, cultural hybrid, treasure and trash, tribal themes
Utility makeshift, industrial accents, simple, honest, ageless, meaningful
Sobriety: fewer but better, adding soul and emotion to a product, minimalism with warmth
Wilderness: Untamed nature, folk tales, primitive, raw, rough stitching, rural crafts, escapism….
Wallcovering Trends.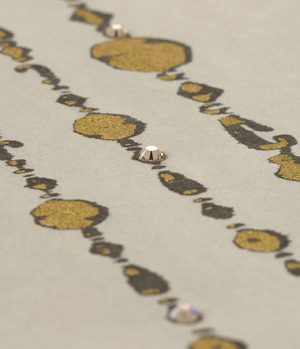 There were many suppliers at Heimtex so it is relevant to speak about where the market is moving to:
The base suppliers are continuing to develop a range of flat pattern variations as they have done for years in new seasons colours. The majority of these are now produced on non-woven vlies [paste the wall] backings.
Whereas the leading edge suppliers [Marburg, Rasch Textil, to some extent Rasch] have been extending these core ranges into other dimensions:
layering the material so the product will work differently in different light situations
using different print application techniques to create unique wallcovering surfaces
applying swarzkovski crystals to the surface
And we are also seeing the rise of digital printing and the extended creativity and flexibility it offers. Whilst there are many suppliers trying their hand at it, only a few have the print capability to produce a high quality finish.
Our retail direction.
As a result of the collections available at Heimtex we will be shifting the emphasis of the collections we market. You have told us what matters most and we always select on that criteria:
The collections must be compelling.
The designs must tangibly add value.
The product must be of the highest quality.

This year you will see more Marburg and Rasch Textil books available for sale, they have both produced a stunning collection of new season books that emphasise the design trends above.We will also continue to support Patent Decor heavily, it is a best in class product and continues to dominate markets around the world. You will see some new classic collections from Brewster and a shift in the colour mix from Rasch.
The books should be available within 8-12 weeks and will be posted here as soon as the images are available.
The wallcovering industry has long left behind the nanna prints of the 70's, it is a vibrant emerging industry at the forefront of design. If you don't have a covered wall you are falling behind. Get one today!