There's only one Rumour worth hearing about in Vegas.
Creative freedom that lasts! Many designers are now leveraging the freedom and durability of digital wallcoverings as evidenced in the fantastic creative designs in the newly revamped Rumour Hotel in Las Vegas.
After seeing what designer Mark Tracy of Chemical Spaces had created for the rooms at the Hard Rock Hotel Las Vegas, the owners of the recently opened Rumor Hotel decided to call on the local designer to bring a loud yet classy factor to their new Fantastic Four suites. "They only said they wanted a lot of color like the Hard Rock rooms," says Tracy.
Lots of color ensues, as does various textures, bold images, and "bling." "I wanted the rooms to provide a complete party atmosphere," he says, also adding that his firm fabricated all the drapery, art, paint, and casegoods for the project. Beds are found in the living space, and the bathrooms boast 18-feet-long lounge benches and five-person showers. "Mix in a little alcohol and music and you have got yourself a party," he says.
Perhaps the biggest eye-opener is the wide range of mysterious and seductive images, many of women. For instance, the black room is rich in sex appeal thanks to crisscrossing mirror strips and black-on-black tones with silver accents that are further enhanced by an image of a woman's corseted torso in the bedroom and one of her pulling off her panties in the bathroom. "It was all about hiding out and partying during the middle of the day with a dark atmosphere," he says. "I like the shock value."
In the red room, a red-lipped black-and-white face of a woman holds a red rose, while a gray suede headboard cantilevers up the wall and across the ceiling, and down the opposite wall, forming another headboard to another bed across the room. In the blue room, a black-and-white face of a woman with a blue eye and matching hair acts as a headboard, while amoeba-like shapes in varying shades of blue "sort of like a giant lava lamp, spill across the ceiling," he says.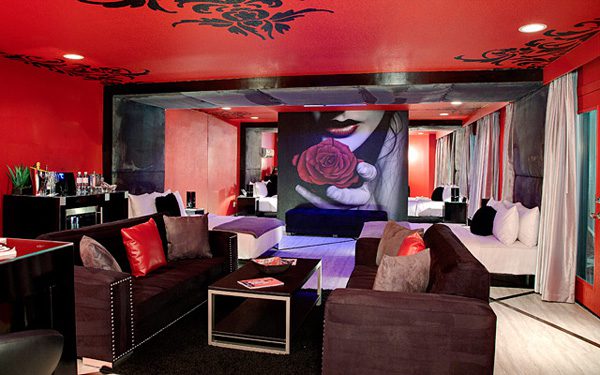 And for the pink room ("The owner actually requested that I do a suite in pink for a girlie feel," he explains), Tracy decked it out in crisscrossing pink mirror strips, silver metallic porcelain tile, and in the bathroom, there's a closeup image of a pink lipped and purple lipped white porcelain woman kissing on the wall next to the shower. "I wanted the images to flow around the room, not so 'stamped' looking on the headboard wall," he says. The images are softer, like the feel of the pink paint and white sheers."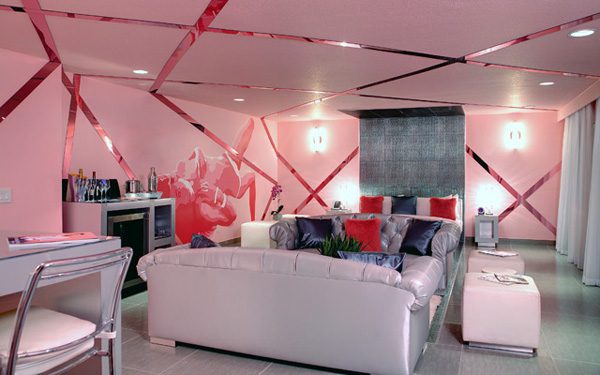 Article brought to you by Jana Schiowitz; photography by David Marquardt of Hospitality Design
Please enjoy the remaining images!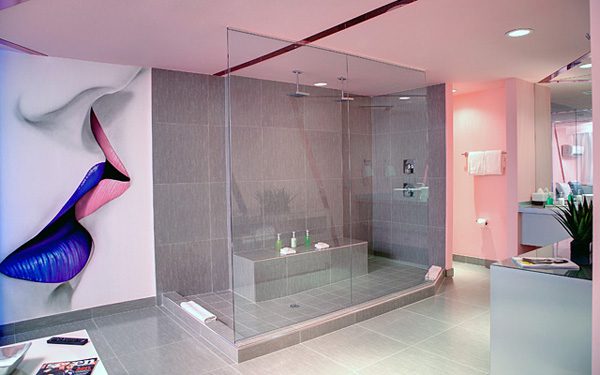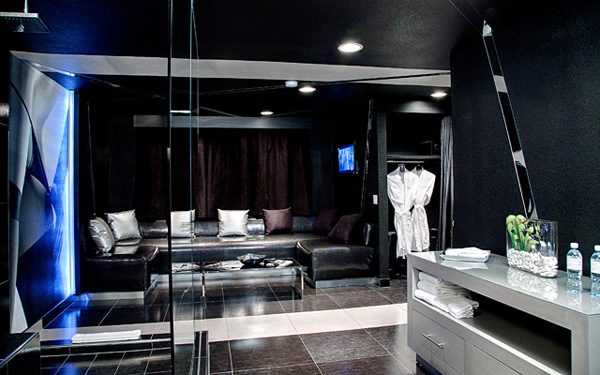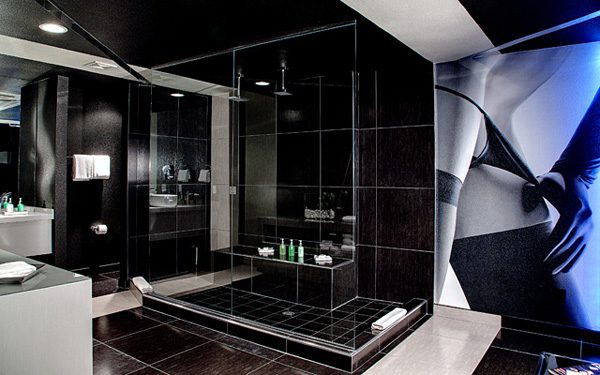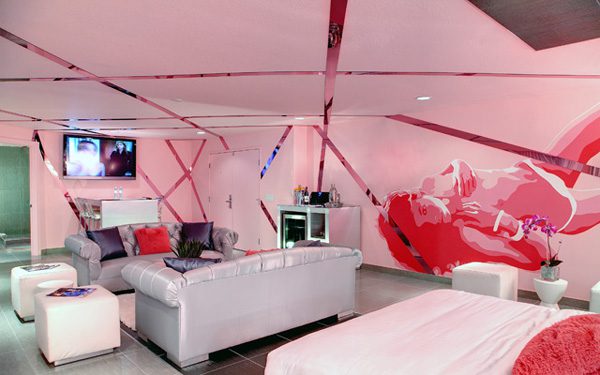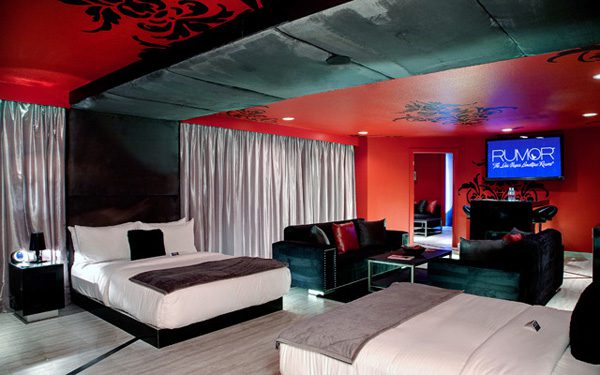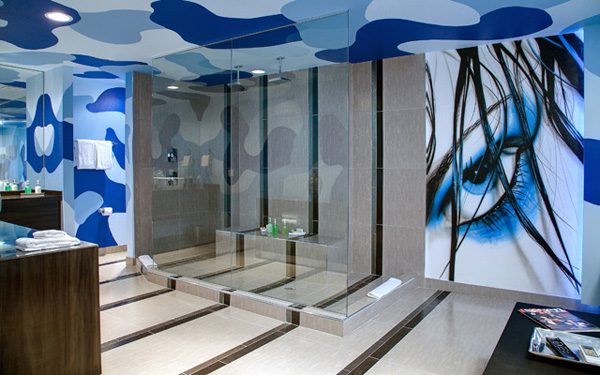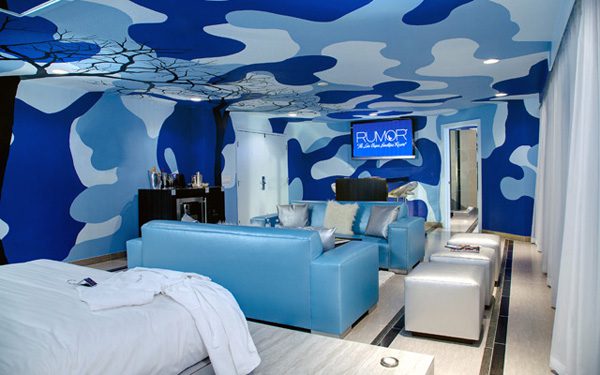 The Rumor Hotel is located at 455 East Harmon Avenue Las Vegas, NV 89169
|