Your décor can be the (french) toast of the town!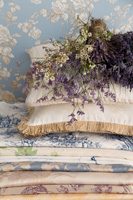 The 'Un Jour A Versailles' Collection from Rasch-Textil is rapidly gaining momentum as people seek to carve out a little French charm in their downunder sunburnt homes and townhouses. The collection is a masterpiece of design and it will teach your walls to speak French, cordially inviting you to spend 'A Day In Versailles'.
The collection is the love-child of Brigitte von Boch, a powerful force in interior design and a world class expert in flower design. This stunning wallpaper replicates the style and grace of the 'Petit Trianon', a small château located on the grounds of the Palace of Versailles. The historic references are balanced by a style and sophistication that sits comfortably in both traditional and modern settings, giving the decorator licence artistique to realise their dreams and create a décor that is simply magnifiques.


This luxurious portfolio takes you back to the splendour of 18th Century lifestyle in Versailles. Exquisite period designs have been reworked and infused with colours that are ideal for today's living, giving you the opportunity to create a space that bubbles with iconic style and playful romanticism. The collection features opulent large-scale ornaments on a velvety soft raised surface, utilising classic motifs that are perfectly paired with tonal textured stripes to produce a warm and inviting interior.
The human race is governed by its imagination – Napoleon Bonaparte

Why not start with a romantic country house ambience? Simply select a combination of floral prints, Toile de Jouy, light blue and beige rose patterns and elements inspired by fine china. If you dare, warm things up a little by combining light neutral colours with carefully chosen dark dramatic tones. Go for some baroque styling complemented by red and white gold fabrics, creating a regal setting befitting any ancient castle. To complete the journey, you can introduce elements of the hunt with finely sketched horse saddles and riding boots. Matt natural tones and metallic accents can be fused with elegant stripes featuring companion bridles. You can even throw in a filigree companion trellis or a lacquered ivy trailing set against a textured background.
Boy, what about those French. They have a different word for everything – Steve Martin

Fine homes deserve fine walls. So if you are longing to embrace the all the trappings of classic French living, or just looking for a unique blend of style and sophistication, then you really should explore the exquisite 'Un Jour A Versailles' Collection. Give us a call today on (03) 9335 6711 or explore the collection further here.