Thinking outside the box (or sometimes inside the box)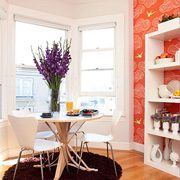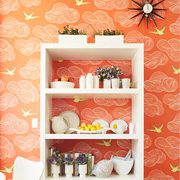 Christina Coop doesn't just use wallpaper on her walls, she uses it to bring an unexpected twist to everyday objects like boxes and lamp shades. Her entire San Francisco apartment is filled with innovative wallpapering ideas. Let's take a look inside thanks to Better Homes & Gardens…
Christina Coop uses wallpaper to its full effect, which means thinking beyond the walls. She even covered a dingy brown breakfast tray to create a portable desktop. By papering both sides of the tray with an organic pattern, she gave it the graphic punch it needed.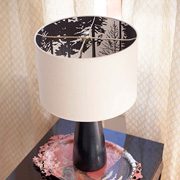 I like to use wallpaper in unexpected places, like inside drawers or inside lampshades so the pattern can be 'discovered'. My black and white lamp gets a subtle touch from wallpaper applied to the inside of the lampshade. Sticking with neutral colours allows the lamp to brighten the living room without distracting from the other elements.
Bold wallpaper patterns naturally draw attention, so they tend to work well for accent walls. In the living room, Christina uses wallpaper as a backdrop to highlight her book collection and storage cabinet. Covering just one wall is a smart choice in this example, because it creates a big impact and requires less wallpaper.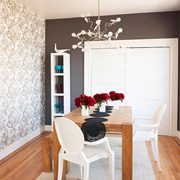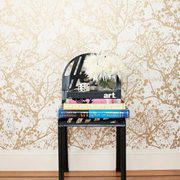 Wallpaper can establish the mood in a room. Choosing a wallpaper with a metallic sheen adds glamour to the dining room. For the kitchen and breakfast nook area, Christina selected a bright graphic design and applied it to the longest wall in the space. The orange background offers clear rich colour, whilst the bird and cloud pattern brings a fun element to the space.
Wallpaper is much easier to hang and remove than it used to be. It isn't intimidating and shouldn't be viewed as something too permanent. I change my wallpaper from time to time just to refresh a room and change the vibe. It's the perfect way to reinvent a living space.
Simple furnishings in a room allow the wallpaper to stand out. Christina pushed a backless bookcase against a patterned wall to create an artful visual effect. If you can't find a backless bookcase, hang simple shelves. Keep the display monochromatic to add even more drama to the room.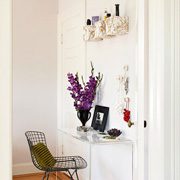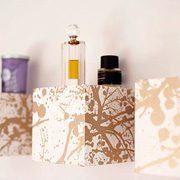 An acrylic dressing table rests against one wall in the bedroom. Above the table, Christina creates a fun three-dimensional effect by wallpapering simple display cubes purchased from a craft store. The rest of the space is left pattern-free so that the cubes stand out.
Clear furniture is a great choice for small spaces because it's functional, yet doesn't make the room appear crowded.
You too can innovate with the wallpaper of your choice just like Christina Coop. Take a look around your house or apartment, you're bound to find some interesting spaces that need a little spicing up. Hume Internationale can help you achieve your dreams and we love a challenge. Who knows, you might even end up in House & Garden! Contact us today or explore our galleries now.