One of Holland's national treasures sometimes overlooked by customer's entranced by bigger marketing budgets is an outstanding textile manufacturer: De Ploeg. The range is one of our company's, rapidly becoming, less hidden treasures with a very deep past woven into the fabric of the company.
The company was born in a Post War era often referred to as the roaring 20's and the inspiring collections continue to resonate the flavour of that time.
Wondering what to do with long winter months trapped in the snow a Dutch weaving mill De Ploeg was established in 1923 as a cooperative and has designed, developed, woven and sold fabrics ever since. The result is an exceptional, high quality, woven textile range that has received numerous awards around the world and was selected as the fabric of choice for the UN building in New York amongst many other stunning installations.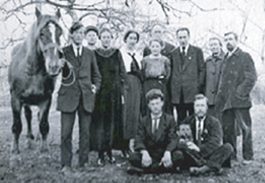 De Ploeg has been well-known to the Dutch general public as a weaving mill and supplier of curtain and upholstery fabrics since the nineteen twenties. De Ploeg is also well-known internationally.
By giving a lot of attention to developments in taste, style and technology, De Ploeg's designers develop original fabrics, which are highly valued by both consumers and professional users of fabrics, such as furniture manufacturers, upholsterers and architects.
De Ploeg stands for traditional quality and aesthetically high-quality curtain and upholstery fabrics which are produced at its own facilities.
The culture of its humble origins continues in the design ethic:  De Ploeg's designers work as a team to put together new collections: cultural shape and colour developments, technology and functionality form the starting point of every collection.