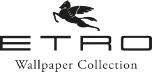 ETRO presents its new collection of wall-coverings, created in collaboration with Rasch, one of Germany's most renowned wallcovering manufacturers since 1861. Together with a passion for pattern, the ETRO tradition has always been about a love of detail and working with fine fabrics. The partnership between the two companies came about due to a desire to harness each other's strengths to create a new benchmark for excellence in interior design. After 'dressing' rooms with furniture and textiles from its Home Collection, ETRO has turned to walls, resulting in its new wallcoverings.
https://youtu.be/ssFHz3NMqiI
Carefully reproduced prints of ETRO fabrics open the door to a whole new world of luxurious interiors. People have been inspired to beautify the walls of their dwellings since time immemorial: across all civilisations, the nobility and middle classes alike decorated their homes with an array of murals, adding to their sense of warmth and comfort.
Today, the new ETRO wallcovering collection comprises six designs, including both non-woven wallcoverings and digital wallpaper, some of them based on original textiles, which can be perfectly paired with matching block-colour designs to stunning effect — all chiming with the look that has defined the ETRO brand since its very inception.