Strictly Stripes, they look fantastic on walls (and zebras)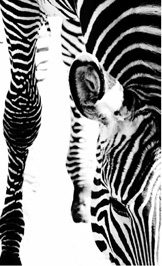 Grab a hammer and crack that time capsule like a nut! Stripes are back – and they've come a long way from the lime green and burnt orange experiments of the 1970's. Modern designs have seen an explosion of materials, textures and styles that is breathing new life into striped wallpaper. If you're curious about the spectacular transformation of this iconic design staple, you simply must check out the Strictly Stripes Collection by Rasch. You'll find a rich bounty of designs that fit snugly into both classic and contemporary settings, opening up new possibilities for an entire room or a feature wall.
There's nothing in the middle of the road but yellow stripes and dead armadillos – Jim Hightower (columnist, activist and author)
I know what you're thinking, can I really do stripes? Won't my room look like a jail? Won't I be trapped in a cage of beige? Not nowadays, tiger. There is a fresh approach to stripes that's being echoed in bold new collections from major manufacturers in Europe. Gone are the days of badly matched block stripes available in a small selection of colours. Modern manufacturing techniques are producing stunning wallpapers that can be precision hung to create the exact effect you are seeking.

Strictly Stripes by Rasch Textil is a collection that can be hung vertically or horizontally, making any room appear larger regardless of its scale. What's more, the collection boats an impressive range of styles and textures that will give you plenty of scope when planning out your restoration. You can choose from numerous designs, all produced on an easy-to-hang nonwoven substrate. In addition to classic two-colour broad and narrow stripes, there are textured stripes that bring you soft velvety suede finishes that instantly bring warmth to any environment. These selections can be contrasted with brushed metallic inks or soft tonal matt-on-matt styles to produce stunning effects.

The colour palette is expansive too. Classic colours such as black, red, blue and yellow can be paired with clean white to create a fresh and dynamic décor. Alternatively, you might like to indulge in luxurious combinations such as dark velvet blue/platinum, coffee bean/copper and deep red/gold. Depending on the colour combinations you choose, you can manipulate the designs to create a vibrant modern atmosphere or a rich, sophisticated ambience. You can even steer your design toward a kind of casual elegance by introducing a few selections from the collection's range of soft tonal pastels. The world is your oyster – an innovative and striking striped oyster – that will make your guests feel instantly at home in your groovy inner city pad or classic period home.

I like things to be quite poppy, quite graphic. Stripes are always a huge thing for me, I'm obsessed with stripes. It's quite a London sensibility – Luella Bartley (designer, editor journalist)
There's a universe of choices out there when it comes to re-decorating. But look around your space and you'll realise that sometimes it just has to be stripes. So if you're looking for a fresh take on this classic feature of home décor, tap into the possibilities offered in the Strictly Stripes Collection. You'll be pleasantly surprised at the recent transformation of this major design icon. Give us a call today on (03) 9335 6711 or explore what the collection has to offer here.