Hume would love to have a quick e-chat, perhaps over some e-scones and nice hot cup of e-coffee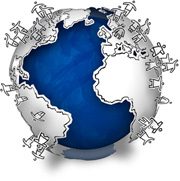 Want to get the latest trends from a metro architecture festival? Want to see the stunning colours that adorn a yogurt shop in New Mexico? Want to see huge steel tree columns being erected at London's Kings Cross Station? If you don't mind a bit of a chin wag and would love to share a running commentary on what's hot in modern wall design, then don't get shy, get busy! Join us for some absorbing social networking on Facebook, Twitter and LinkedIn. These sparkling jewels of social networking are growing every day – and a quick look at the figures underlines their compelling appeal.
Facebook


Facebook, the famous social networking service and website launched in 2004, was largely devised in a Harvard dorm room by a young Mark Zuckerberg. International fame, lawsuits and a major motion picture followed. Facebook today boasts over 750 million active users and has an estimated value of around $15 billion.
Like us here now
Twitter


Twitter, on the other hand, is more of a micro-blogging service created by Jack Dorsey in 2006. Twitter handles over 200 million tweets and 1.6 billion search queries per day. It's sometimes described as the "SMS of the Internet." We work hard to bring you the latest in architecture and design trends from around the world every day.
Join the conversation and follow us here now.
Linkedin


LinkedIn is a business-related social networking site launched in 2003. LinkedIn reports more than 120 million registered users, spanning more than 200 countries and territories worldwide.
Hook up today, no one or company is more than six degrees away.
At Hume, we place a high premium on expertise. We have what you want and we know how to make your visions burst into reality. But we also have some diehard travellers, some global trekkers who love to keep their fingers on the pulse and track down the latest design elements being used around the world. What's more, they all have the sharing gene – so now you can enjoy instant updates by following us on our social networking hubs. It's easy and we're welcoming new friends all the time.
Businesses used to have a suggestion box near the door that mostly housed dustballs and an occasional piece of gum. Rarely would someone get back to you. But people can now make a post from an iPhone or a BlackBerry while they're sitting in your restaurant! – Charles Nelson, President of Sprinkles Cupcakes
By following our various blogs and tweets, you'll open up new possibilities for your next interior design or renovation project. For instance, you'll see a stunning restoration of housing clusters in Modica, Sicily. You'll learn how $1 million can buy you 5 nights on a commercial space station orbiting 350km above the earth. You'll enjoy snapshots of the world's best wallpaper designs and relish the opportunity to share your passion for everything from simple stripes to cutting edge digital wall art.
A brand is no longer what WE TELL the consumer it is, it's what consumers tell EACH OTHER it is – Scott Cook (Intuit Software)
So if you like to keep in touch, if you like to chase down emerging trends before they simply wash over you, then get on board with us via Facebook, Twitter or LinkedIn. There's an exciting world out there and your walls deserve the very best!