Here's a South Australian who can really get your motor running when it comes to interior design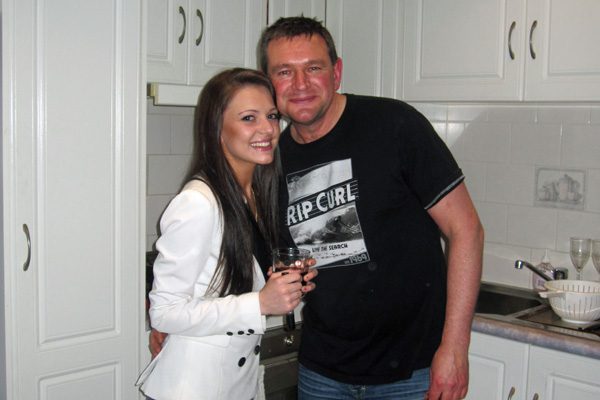 Anthony Cooke would love to be gliding down the highway on a big beefy Harley, but he's come to the realisation that it's a solitary pursuit. He's gravitating to the idea of one day buying a 1967 Mustang Fastback, because cars can be shared. This willingness to bring others into his world is a telling hallmark, especially when it comes to finding the right contact to make inspired changes to your interior design. Anthony Cooke has access to a great range of products, he knows the industry, he's spent many years acquiring his expertise and he's ready to share it with you.
Anthony started out as factory hand in a metal engineering shop. "I kept ringing until I got the job!" he says. He went to Regency Park College, got a business management certificate and became a sheet metal engineer and a fully qualified salesman. His next move took him to a bedding manufacturer, where he moved from sales rep to store manager and eventually factory manager. Next he took the bold step into wallcoverings and hasn't looked back. Wilson fabrics and wallcoverings saw him clock up 17 years experience in the industry as a sales rep, state sales manager and now a highly reputable agent. He has developed a deep appreciation for wallcoverings that has survived and flourished to this day.
I like wallpaper because it's always changing, every month there's new products and new ways to cover your walls
Anthony is excited by the recent explosion of designs and advances in manufacturing techniques. The wallpaper scene has become very interesting in modern times. For instance, the Queens Collection by Rasch is one of his favourite collections right now. He particularly likes the cityscape design where you can step up close to enjoy an etched progression of multi-storey buildings, but step back and you'll see a geometrical pattern that creates a wave like effect with great depth.
Today's wallcoverings allow you to create some really great effects, especially when combined with the right fabric and furniture elements
Hume Internationale is company that has won his respect. Hume believes that people are the beginning, middle and end of any business. Hume believes that to be a great business, you must act with integrity. Hume also believes that every problem has a solution, work harder and you will find it.
Hume has a diverse range of products and caters for all market sectors. I admire their great flexibility, as well as their professional and prompt service. As an agent, I rely on their ability to respond quickly with a solution for every challenge.
Anthony Cooke really does love wallpaper, but he's also smitten by his family. Wife Sharon is the love of his life, daughter Chantelle works with him in the business, whilst young Sophie studies hard at school. Anthony also loves a concert. So if you see a dude in a Queen T-Shirt heading to the Adelaide Entertainment Centre with three beautiful women, why not ask to see his wallpaper catalogue? Just one little chat could turn your home or commercial space into the warm and inviting environment you always wanted it to be.