ERASAWALL – let your imagination flow without any boundaries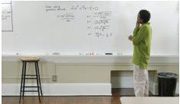 Everyone loves to express themselves from time to time. But do you possess a creative river that bursts its banks every time? Are you a feisty little volcano of ideas that's about to erupt? Then you need a space where you can let your imagination flow without the limitations that come with a portable device like a whiteboard or flipchart. It's time to think big and create the perfect outlet for all that innovation bubbling inside you. ERASAWALL is the breakthrough you've been waiting for and it's here today.
You can write about everything in life if you have the outgoing guts to do it and the imagination to improvise – Sylvia Plath
So how does it work?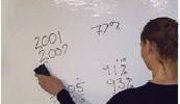 Well, the unique properties that make this product so useful lay in the science of manufacturing ERASAWALL. It's made using a special three-ply construction process that includes a strong fabric backing, a synthetic paper core and a 40 micron ETFE film surface. ETFE is a fluorine based plastic that is also known as Ethylene Tetrafluoroethylene. Try saying THAT three times in a row! Hey I slept through science class, so unless you're an industrial chemist there's no need to worry about all that technical stuff. All you need to remember is that ERASAWALL is easy to apply, fun to use and very handy too. Just think of all the uses for this product in your home or business…
Make artistic sketches or fun doodles
Create catchy advertising slogans
Devise mission statements
Solve complicated mathematical equations
Write shopping lists or handy reminders
Draft plot outlines for your next book
Leave entertaining messages for housemates
Let your kids go crazy on a wet winter's day
Brainstorm ideas for a better company performance
Play tic-tac-toe all night long with a friend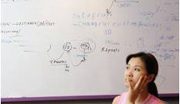 ERASAWALL is ideal for conference rooms, classrooms and can even cover old chalkboards. It's sold by the lineal metre in continuous lengths of up to 30 metres, with a width of 150cm. It's 'CLASS A' fire rated and performs brilliantly under a range of temperature fluctuations. It's easy to install, easy to clean, accepts most types of marker pens and comes with a five year warranty. It's simply the most effective dry-erase surface available in today's market. To explore the exciting possibilities for your home or office, give us a call today on (03) 9335 6711 or read more about ERASAWALL here.