BELACOL: progressive design meets traditional style

What if we had the skill to put a Ferrari engine on a penny farthing bike? What if we could warp space-time and marry Zoolander to Coco Chanel? What if the ancient Greeks had laser beams and instant coffee? It's hard to fuse modern components with traditional icons, but there's one company that's becoming famous for doing exactly that in the world of interior design and wall coverings.
Charles Graser Daughters, the company led by sisters Isabel and Nicole Graser, is a creative hotbed for wall coverings. The Grasers deliberately set out to combine all the best elements of modern design with established styles, giving the world a harmonious interplay of progression and tradition. The company is a kind of half-way house where international designers are invited to merge classical elements with contemporary vogue. Now you can tap into this creativity through the amazing range of BELACOL wallpapers.
Good design keeps the user happy, the manufacturer in the black and the art lover unoffended – Raymond Loewy
The original BELACOL 1 collection delivered a touch of extravagant luxury, but the sisters really hit their stride with BELACOL 2 and BELACOL 3. In these later collections, the motto 'tradition meets progression' is illuminated from a different perspective. Classic ornaments are wrapped in striking colours to generate combinations that are grand, stylish and elegant. Gold and silver motifs reside successfully on matt background colours, whilst carefully selected shades create exciting contrasts. This interplay of traditional and contemporary components has become the company's hallmark, with instant benefits for the consumer as their beautiful designs sit comfortably in almost any space.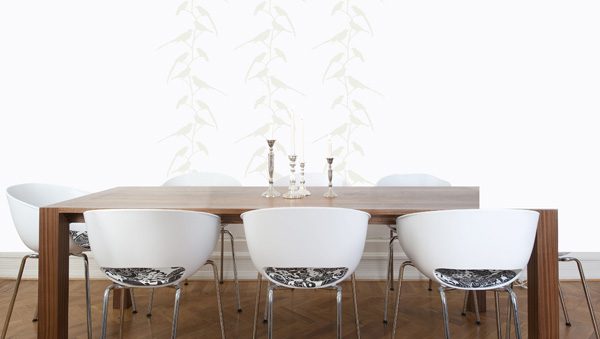 BELACOL 4 takes the concept of 'tradition meets modernity' to new heights. Here the sisters select thorny ornaments and antique paisley motifs inspired by the 1950s, carefully placing them onto timeless shapes such as circles, crosses and stripes. These motifs are then endowed with contemporary textures and lighting effects, creating a strong sense of style and personality. These innovative patterns are delivered in a range of soft shades like white, cream, mauve and berry tones.
BELACOL 4 uses a production technique that sees a high-quality fleece put through a safe water-based screen printing process. The process uses new pigments, glitter particles and special colours to achieve unique results. The collection is truly stunning, ecologically sound and will last many years.
Charles Graser Daughters is a truly innovative company and their products are carried by some of the world's finest interior design houses. Their wall coverings are young, different and traditional all at the same time. So if you're looking for an artful fusion of contemporary and time-honoured design, then check out the exciting range of BELACOL wall coverings. Give us a call today on (03) 9335 6711 or explore the Belacol collections here