The potential in your floor may be lost in a sea of knotty pine or polished concrete

Art is moving out of its comfort zone, edging its way into bold new spaces that have traditionally been off limits… like the FLOOR. Yes, the floor is finally reinventing itself and becoming part of the overall design concept in bold new residential and commercial developments. But how do you take a beautiful design and let people trample all over it? Won't it be trashed, scuffed and ripped to shreds by a vast army of steely stilettos and lively loafers? Not any more, as the world discovers the remarkable power of RAPOXY®.
RAPOXY® allows you to handpick a design from the diverse wallpaper range offered by Rasch, then immortalise your choice in a hard-wearing epoxy coating that looks fantastic even in high traffic areas. RAPOXY really opens up the creative possibilities for commercial spaces including hotels, retail outlets, offices and restaurants. It's even making inroads into funky residential developments where a good deal of free license is given to architects and designers. If you are looking to combine durability and style – in a commercial or residential setting – the only way to go is with RAPOXY®.
On the floor I am more at ease. I feel nearer, more part of the painting, since this way I can walk around it – Jackson Pollock
How does it work?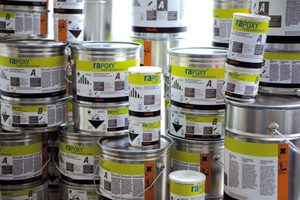 The basic system consists of Rasch Wallpapers, RAPOXY® Primer and RAPOXY® Glossy. Simply inspect the surface to ensure the floor has the right kind of attributes for a successful finish. Pay attention to qualities such as dryness, moisture, stability, strength, cracking, evenness and cleanliness. Prime, smooth and seal the surface, then apply the wallpaper using the "paste the floor technique". Then apply the RAPOXY®, allowing time for the surface to dry between coats. Follow these simple steps and the result will be stunning – a unique combination of flair and resilience that will knock the socks off your guests, clients, visitors or customers. RAPOXY® is where industry expertise meets artistic genius!
RAPOXY® not only looks great, but it's an extremely versatile product. RAPOXY® is suitable for surfaces that require a high degree of mechanical and chemical resilience. The product is traffic resistant, hygienic and easy to clean. Furthermore the product has been successfully inspected for use in foodstuff areas by the Nehring Institute – and it's also suitable for use in wet and moist rooms.
Are you really sure that a floor can't also be a ceiling? – M.C. Escher

But the real eye opener is the rich diversity of design elements opened up by combining RAPOXY® with the stunning wallpaper selections offered by Rasch. The Rasch range comprises over 4,500 items of paper, embossed, expanded and flat vinyl wallcoverings, plus coordinating borders in a large variety of designs. The selection is updated every two years or so, with around 1000 new designs opened up to consumers around the world. You too can take advantage of this tantalising array of choice, turning your floors into walls with RAPOXY®. Give us a call today on (03) 9335 6711 or explore our RAPOXY® gallery now.