Dieter Langer marries beauty with function in his stunning ICON Collection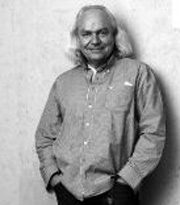 Dieter Langer, successful art director at Marburg wallcoverings, does not see himself as a modern day reincarnation of Rembrandt, Cezanne, Matisse or Warhol. His eyes are firmly on the prize of functional design – so that the consumer can blend his wallcoverings into a great diversity of settings. His practical approach, working in tandem with an irrepressible artistic ferment, results in a finely balanced collection that acknowledges the role of accompanying furnishings whilst celebrating the fabulous dexterity of today's wallcovering materials. In short, he has produced a range of colours and textures that are perfect for today's contemporary domestic scene. So check the current state of your feet and consider a pedicure, because his wonderful ICON collection will simply knock your socks off!

Dieter Langer brings decades of experience to your walls. Having graduated in visual communications in 1976, he focused on setting new trends in textile design. After working his magic at exalted industry specialists such as Pickhardt + Siebert, he finally arrived at world class manufacturer Marburg. This family owned company has been operating since 1845 and its wallcoverings are sold in more than 130 countries. Their products are synonymous with creativity, innovation, quality and style. Dieter Langer, having risen to the position of art director, offers a unique blend of artistic creativity and functional design.
I'm an industrial designer, not an independent artist. We need to find acceptance in the market, that's the point, not design for design's sake – Dieter Langer

But don't let this practical approach fool you – he's every bit the artist. His ICON collection offers a breathtaking array of designs imbued with great beauty. ICON LACE features large scale waves of boysenberry and pink, balanced by metallic grey and anthracite lines that rise and fall like foam on a warm ocean. ICON TWIST delivers impressive charcoal blossoms that open up to the night behind a filigree wire fence of intoxicating magenta. ICON TRACE boasts grey and silver bark surfaces that float on brushed shades of Yves Klein blue. ICON DUNE offers a striking pattern of interlacing folds in silvery grey and black – reminiscent of desert sand drifts, wafting smoke clouds, or a metric tonne of taffeta dropped gently from the sky.

Dieter Langer's dedication to style is matched by his passion for the technology of modern wallcoverings. His designs are rendered on Non-Woven Vlies (pronounced like flies, but with a v). This material is more durable than plain paper, breathes extremely well and doesn't shrink or stretch. In terms of design, it becomes possible to work on a much bigger scale. What's more, this material opens up other design possibilities such as special finishes, glass beads and random threads.
Europe is waking up to the advantages of non-woven wallcoverings. There is clearly a move in this direction, largely because it's a very nice medium and printing is enhanced because of the absorbency of the material – Dieter Langer
So if you are looking for the perfect addition to your walls, a range of designs that will complement your modern furnishings and ambient lighting, then check out the tantalising range of possibilities offered by the ICON Collection. Give us a call today on (03) 9335 6711 or explore the collection further here.