Brewster brings charm and sophistication to your traditional space
Brewster Home Fashions has been a prominent manufacturer and distributor of fine wallpapers and home décor products since 1954. Brewster is headquartered in Randolph, Massachusetts, enjoying a sterling reputation as one of the oldest independent, family-owned wallpaper companies in America.
Brewster is recognised by residential consumers, interior design professionals and commercial operators around the world. They offer a carefully constructed portfolio of wall coverings that will breathe fresh life into any traditional homestead or time-honoured business.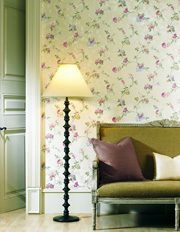 Mirage Signature
Classic style and grace
Mirage Signature adds style and grace to any home or business with its classic range. Think flowers, buds, leaves, scrolls and stripes. Think gold, light grey, orange, peach, pink, tan, marble and many more. Weave your magic with subtle repetitions or strong plains that bring flexibility to your design. Build a stunning lattice in earthy tones, or cast a spray of blossoms across your room in the vibrant tones of spring and summer. Mirage Signature has built flexibility into their classic designs, giving you abundant combinations and a rich diversity of prints.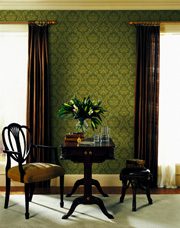 Juliette
Old world charm
Juliette brings a special brand of old-world colonial charm to your interior design. The range features a rich diversity of stripes and florals to suit any classic décor. Many selections come in striking bold colours such as deep crimson and forest green, whilst others offer a range of soft pastels including pinks, blues and violets that bring a quiet elegance to your space. Mix and match to build a coordinated design that's a perfect complement to antique furniture or your favourite period pieces. This is a collection to suit all classical needs.
Satin Classics VIII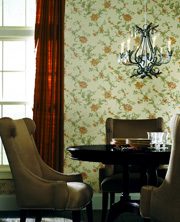 Floral classics
Satin Classics VIII is a beautifully wrought collection that will make you feel as if the garden has bloomed and crept softly onto your walls. Large vines leaves are rendered onto warm backdrops of grape, cherry and charcoal to create a stunning tapestry effect. Elsewhere, dainty flowers and buds edge their way across muted tones supported by an ample range of checks, stripes and plains. This range would certainly enhance any traditional dwelling, especially one nestled in a garden setting.
Brewster Home Fashions continues to supply high quality wall coverings and home décor selections to savvy clients around the world. Their fine collection is always within reach as they boast an assortment of manufacturing and distribution facilities located in the USA, UK, Canada and China. You can explore their exciting range today by calling (03) 9335 6711 or visiting our residential design studio.