Rumor Hotel sets a cracking pace with its innovative digital wallcoverings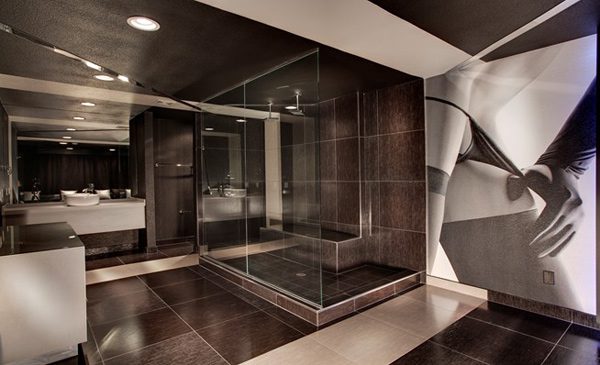 The Rumor Hotel is the place you go when your best friend joins the foreign legion and won't be seen again for ten years. It's the place you go when your eccentric old boss takes a gold watch and puts you in charge of the whole operation. It's a party hotel with a great pool and a seriously hip bar, but it's the accommodation that really sets it apart. The hotel has created a quartet of unique rooms known as the Fantastic Four, where the designer has taken full advantage of the freedom and durability made possible by today's digital wallcovering techniques.
Mark Tracy of Chemical Spaces, the creative force behind the Hard Rock Hotel suites located in Las Vegas, was given the opportunity design four new rooms at the Rumor Hotel. "They only said they wanted a lot of colour, kind of like the Hard Rock rooms, but I wanted the rooms to provide a complete party atmosphere. We put beds in the living space and five-person showers in the bathroom. Mix in a little alcohol and music and you have got yourself a party," he says.
But the biggest eye-opener is the use of digital wall technology to produce stunning images and amazing textures throughout the four exotic suites. With each suite colour-coded for easy identification, there can be no mistake about the artistic freedom that's been let loose in every room.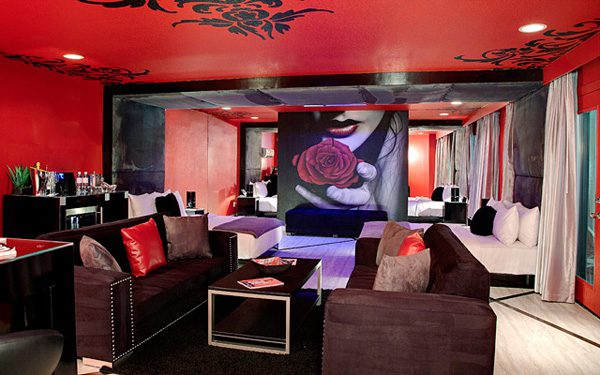 In the red room, a red-lipped black-and-white face of a woman holds a red rose, while a grey suede headboard cantilevers up the wall and across the ceiling, then down the opposite wall, forming a headboard for another bed across the room.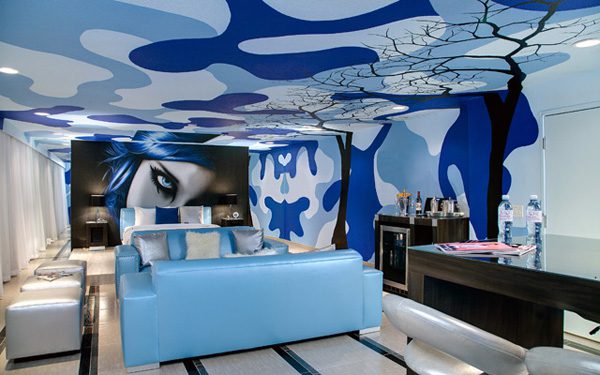 In the blue room, a black-and-white face of a woman with a blue eye and matching hair acts as a headboard, while amoeba-like shapes in varying shades of blue spill across the ceiling, kind of like a giant lava lamp.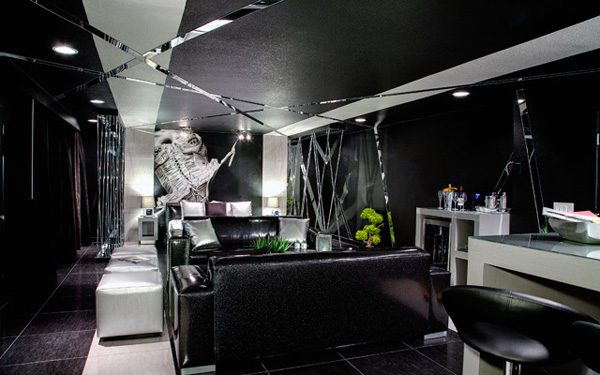 In the black room, sex appeal rules with its criss-crossing mirror strips and black-on-black tones with silver accents. A corseted torso amplifies the heat in the bedroom and the story continues in the bathroom. This room has shock value. It's a great place to party in the middle of the day, surrounded by a dark and exotic atmosphere that gives no clues to outsiders going about their daily chores.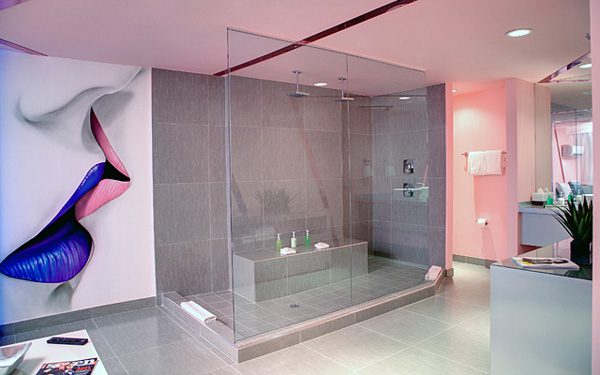 In the pink room, there's interlacing mirror strips, silver metallic porcelain tiles and a digital wall featuring interlocked pink and purple lips kissing in the bathroom. The images flow around this room, with softer furnishings balancing pink laminates and white sheers.
We have designed an entirely new hotel experience for our guests. Sexy yet unpretentious, glamorous and accessible, eclectic with a relaxing and inviting ambiance – Stephen Siegel (CEO Siegel Group)
Wall design has clearly become an art form, with designers harnessing the ability to create stunning floor to ceiling graphics forged from original artworks or huge image libraries. Digital wallcoverings also offer all the benefits of commercial grade materials. They are durable, tough, stain resistant, graffiti resistant and can be produced to your exact image specifications. If you are excited about the endless possibilities for your next interior design project, give us a call today on (03) 9335 6711 or read more about your digitial wallcovering possibilities here