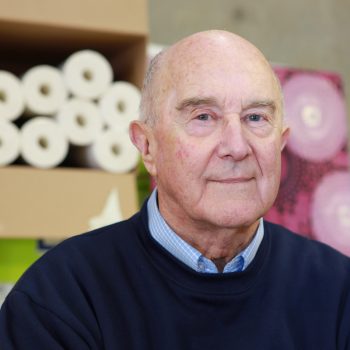 Barry Walters
Managing Director
Barry fast facts:
What do you love about interior products:  The way in which they transform a surface and give it character.
What do you see as the Hume advantage: The ranges we have on offer. No-one does it better.
Where do you think the industry is headed: The industry is becoming more sophisticated and people are beginning to recognise the importance of interior design. This decade is about individuality and making your mark. Our demand for unique products serves this need, they create individuality wherever they are used.
After tackling general management roles in time and motion study, timber milling and retailing, the Egg Board, production management, receiving numerous awards for new car sales leadership, and hanging wallpaper in his spare time, Barry decided to devote his life in service to the wall covering industry.
Barry purchased Hume Internationale from a relative and close family friend in 1986 and since then has experienced all the industry has to offer.  From sourcing unique suede coverings to furnish a run down Arts Centre, numerous Hotels, office and shop refurbishments or fit outs, to redefining retail, repairing cracked surfaces on Heritage buildings, and reinventing children's wall coverings,  he has been at the pointy end of the industry and survived. He has always said you can't buy experience yet his purchase of Hume Internationale has delivered in spades. No-one knows the industry better.
Barry is absolutely passionate about the business of delivering; delivering the highest quality wall coverings and providing customers the best international range there is on offer!